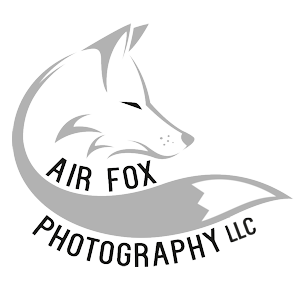 About Airfox Drone Photography
What Camera equipment are you using for most of your projects?
AirFox Photography usually uses DJI Phantom 4 Pro drones for my mapping projects which require large scale images. We also use the Mavic Pro  the Mavic Zoom, depending on what pictures they all have their unique abilities to capture what I need. For thermal imaging I use the Mavic 2 dual thermal drone. For sound I use the DJI pocket Osmo and also Gopro's cameras. This allows me to capture the sound and ground photos of the events that is happening at that time so I can edit that into the video. This will also give you a better feel of what has happened at the event. Or we can use music in the video as well.
Do you do still photography at these events as well as drone photography?
AirFox Photography does both still and video from the drone. I can switch between stills and video depends on what I want to capture at the time while in flight. This give me the ability to capture what I need for the project.
Why is it important to have a licensed drone pilot shoot my video?
FAA Remote Pilot License is required by law to fly a drone and capture images that a person plans to sell or give away to aid the furtherance of a business or product.
Waivers Granted by the FAA
107.51(B) I can fly higher than 400ft limit.
107.39  flight  over people waivers
107.31  VLOS waiver
What happens if your aircraft is involved in an accident?
AirFox Photography carries a minimum of a 1 million dollar insurance policy to protect the customer in case anything would happen to go wrong.
How long have you been doing photography?
I have been doing photography since the early 80's. Back then we used film. I took a break from commercial work to raise my family and always had plans to start up again when my kids where grown.
How did you get started doing drone photography?
My first thought when I decided to get back into photography was to capture it from the air using the drones.
AirFox Photography started with the Phantom 2's and we have been building our fleet of drones to match the jobs and expectations of our customer's. We had originally received our 333 exemption to fly drones for commercial work in February of 2016. The FAA has since replaced that with the Remote Pilot License which requires an air nautical test to be taken and passed. We did that in September of 2016 and that must be renewed every two years.